Meet The Neir Team, Realtors®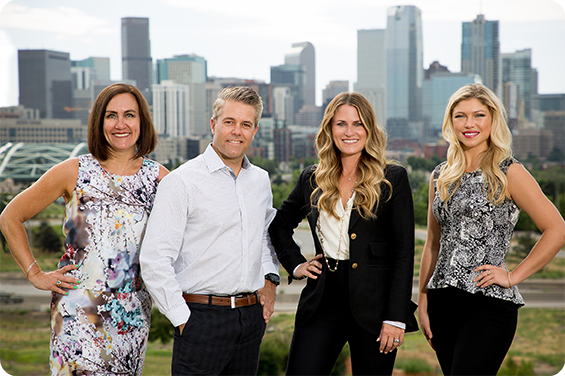 The Neir Team is one of Denver's premier real estate teams. Their mission statement is to "Make every Client a Client for Life." With this approach to every transaction, they strive to exceed their client's expectations which is why a large number of their sales are derived from repeat and referral clients.
Throughout their distinguished 16 year career in the residential real estate business, they have garnered numerous sales production awards which places them among the upper echelon of real estate teams in Colorado and nationwide.
Just a few of their accolades include:
Denver Metro Realtor Association Roundtable of Excellence award every year since 2003
5280 Magazine 5 Star Real Estate Agent award recipient every year since 2010
2018 Platinum Award Winner with DMAR with over $29,000,000 in sales
2017 Titanium Award Winner with DMAR with over $35,000,000 in sales
2016 Platinum Award Winner with DMAR with over $24,000,000 in sales
2015 Gold Award Winner with DMAR
One of Kentwood City Properties Top Producers and Top Teams
Over $10,000,000 in sales annually since 2013
Sold over $127,000,000 in real estate since 2001
This is a huge honor for their team as they consistently strive to exceed their client's expectations and make the real estate process a fun and memorable experience. When selecting the Neir Team as your real estate professional you have assured the highest level of professionalism, courtesy, and knowledge.
In addition, the Neir Team has partnered with Kentwood Real Estate, Colorado's premier real estate company. With over $2,000,000,000 in real estate sales in 2013, 2014, 2015 and 2016 Kentwood has solidified itself as one of the firms with the highest per agent production in the nation. Together the Neir Team and Kentwood are a dynamic duo that strives for superior customer service and unmatched knowledge of the residential real estate market in Denver.

Stacy Neir is a seasoned vet having started her real estate career in 2001. Since then she has marked herself as one of Denver's premier real estate agents. She has an acute knowledge of selling new construction real estate. She has represented numerous developers selling new construction single-family and attached homes in city-close neighborhoods of Denver. She loves giving back to her community. Stacy founded Women Who Wine and Who Are Charitable which is a women's group that meet monthly to supply goods and supplies to numerous local charities while enjoying a glass a wine. She has raised money for Cancer League of Colorado and participated in Over The Edge which raises money for cancer patients in Colorado. She has also sponsored several families through Be The Gift. She enjoys traveling around the world and spending time with her family.

Alex happily gives his wife and business partner Stacy all the credit for finding his professional passion. While she was glowing about being a REALTOR® impacting her clients' lives and making "dream homes" come true for families, he was toiling in a sales position at a tech company. Reflecting on his life-long love affair with his native Denver, Alex realized his professional calling was in real estate.
After getting his license, Alex went to work at Keller Williams in 2004, progressing to Kentwood Real Estate in 2007. And everything he had heard about Kentwood proved to be true: agent collaboration, integrity, innovation, and professionalism. Today, not only is Alex managing broker at the Kentwood City Properties office, but his award-winning Neir team has been filled with top producers for the downtown office for five years running, ranking No. 1 in 2017 and 2018. Thanks to his commitment to superior customer service, Alex has been recognized by the Denver Metro Association of REALTORS® for outstanding sales performance year after year.
Alex points to his extensive understanding of downtown and its surrounding neighborhoods, being passionate, remaining hungry and staying ahead of the trends for his top rankings. "Loving what you sell is incredibly important," explains Alex eloquently. "Our recreation, climate, culture, food and friendly, outgoing people are amazing, and I feel privileged to help my clients — whether they're buying or selling — be a part of that." Alex avidly studies Denver's real estate market each month to keep ahead of trends and caters to clients who want this Colorado lifestyle.
Great brokers don't only guide their clients through each step of the transaction but remain a trusted resource long after the transaction. Clients often remark about Alex's incredible attention to detail, technical acumen, and sharp negotiating skills. Clearly, his mission of "making every client a client for life" is being accomplished.
When not at work, the Neir family raises funds for Denver's less fortunate at its annual Givetoberfest. His perfect weekend? It begins and ends with Stacy and their cherished daughter, a sunset show at Red Rocks and a day of skiing, snowboarding or biking. After growing up in Congress Park and Parker, Alex earned his undergraduate and Master's degrees at CSU.

Laura Fuller hails from Chicago but has now been living in the Stapleton neighborhood for the last ten years with her family. She has worked hand in hand with the Neir Team for many years and is well versed with Colorado's contracts and how to get deals done in today's fast-paced Denver market. Having lived in Denver for the last decade, she knows the city's neighborhoods inside and out. Laura comes from a strong marketing and sales background which has helped easily transition into a broker role. Laura's strong suits are her drive and dedication, her attention to detail in every transaction, and personality. Laura is one of those people you just want to work with. Laura enjoys a wonderful work-life balance. Laura is raising two daughters with her husband, all while enjoying the wonderful things our amazing city and state have to offer.

Madeline Jack is our new assistant extraordinaire!
The Neir Team are full-time Denver real estate agents committed to you. Whether you are looking for luxury home, a loft or condo Downtown, an experienced Stapleton real estate agent, new construction experts or are looking anywhere else in the Denver area, we are here to help.We are accessible every day of the week and able provide personal attention to any questions or concerns you may have. We believe in having fun and have great enthusiasm and passion for the real estate business.
We Are Denver Real Estate
The Neir Team is here you help.