Parks and Open Space in Stapleton Denver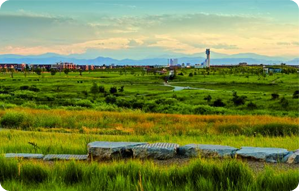 Stapleton's 80-acre Central Park is the centerpiece of the community's park system. Located immediately east of the Stapleton Control Tower, the park is open and one of the best spots in the city to watch the sun set. Design elements in the Central Park include an urban forest and prairie mounds, the highest being 30', provides an ideal sledding hill.
Central Park's gathering place includes a stage and children's play area and can accommodate over 1,000 people for concerts and lectures. Numerous open grass areas allow for soccer matches, frisbee, volley bell, bocci ball, croquet, badminton, football, and anything else you can imagine.